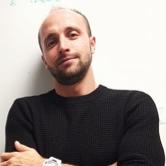 Francesco Bonì
Email:
francesco.boni@unimi.it
Phone office:
02 503 14896
Cicle:
XXXIII
A.Y.
2017 - 2018
Supervisor:
Mario Milani
Title:
Structural basis for cone dystrophies: toward the design of new therapeutic molecules
… read more
External links:
ORCID
Curriculum vitae
:
>>>
Publications:
Molecular basis of a novel renal amyloidosis due to N184K gelsolin variant.
Bonì F, Milani M, Porcari R, Barbiroli A, Ricagno S, de Rosa M.
Sci Rep. 2016 Sep 16;6:33463
High-resolution crystal structure of gelsolin domain 2 in complex with the physiological calcium ion.
Bollati M., Scalone E., Bonì F., Mastrangelo E., Giorgino T., Milani M. and De Rosa M.
Biochemical and Biophysical Research Communications
An alternative non-proteolytic mechanism may underlie AGel amyloidosis
Bonì F., Milani M., Mastrangelo E., Barbiroli A., Diomede L. and De Rosa M.
Amyloid
Gelsolin pathogenic Gly167Arg mutation promotes domain-swap dimerization of the protein
Francesco Bonì, Mario Milani, Alberto Barbiroli, Luisa Diomede, Eloise Mastrangelo and Matteo de Rosa
Human Molecular Genetics
Missense mutations affecting Ca2+ coordination in GCAP1 lead to cone-rod dystrophies by altering protein structural and functional properties
Giuditta Dal Cortivo, ValerioMarino, Francesco Bonì, MarioMilani and Daniele Dell'Orco
Biochimica et Biophysica Acta (BBA) - Molecular Cell Research
Modulation of Guanylate Cyclase Activating Protein 1 (GCAP1) Dimeric Assembly by Ca2+ or Mg2+: Hints to Understand Protein Activity
Francesco Bonì, Valerio Marino, Carlo Bidoia, Eloise Mastrangelo, Alberto Barbiroli, Daniele Dell'Orco and Mario Milani
Biomolecules